---
HOW TO CHOOSE THE RIGHT FIT FOR YOU
ALWAYS MEASURE
Measure the length of your foot by standing on a flat surface with your full weight on your foot, then measure the distance from the back of your heel to the tip of your longest toe. You may find it easier to trace your foot on a piece of paper (make sure to keep the pen vertically straight when tracing so that the trace is not smaller than the actual foot). Once traced, measure from the lowest point of the heel to the highest point of the longest toe. Then use the size guide to determine the best AU size according to the cm measurement.
LEATHER STRETCHES
Your Veldskoen shoes will stretch quite a bit over the bridge of your foot. We have found that, in order to ensure a perfect Veldskoen fit, they need to be a little tight the first time you try them on. You will notice that the leather will stretch around the bridge of your foot as soon as a few hours into wearing your shoes. If they aren't a little tight the first time you put them on, chances are, you will regret buying a size too big once the leather stretches.
VELDSKOEN ARE A GREAT FIT FOR - D (REGULAR), E (WIDE) and EE (EXTRA WIDE) FOOT SIZE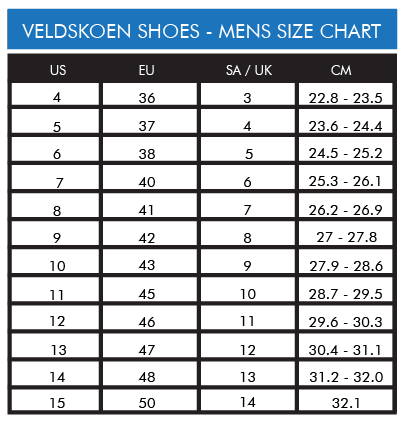 ---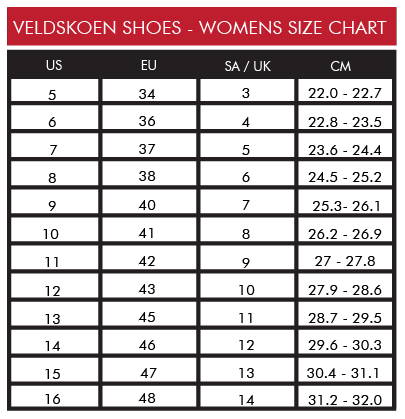 ---
---
Still not sure what size to order? Contact us!
info@veldskoenshoes.com.au