---
The partnership between VELDSKOEN and SORAI is a natural fit. SORAI, which stands for 'Save Our Rhino Africa India', are on a mission to save not only the rhino, but all endangered species from extinction. At VELDSKOEN, we pride ourselves on collaborating with companies and organisations who are shining a positive light on South Africa, through business and CSI initiatives.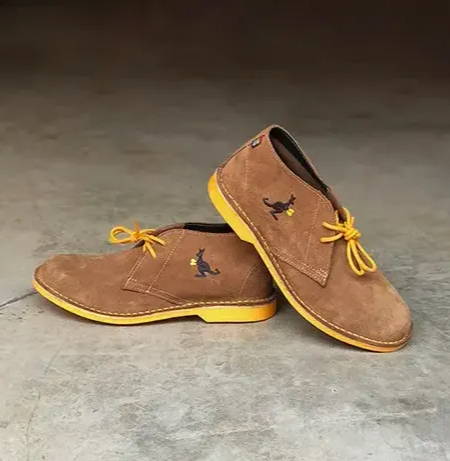 "it's okay not to be okay"
The 10th of October is World Mental Health Day. Mental health is something that we, at Veldskoen Shoes Australia care deeply about and is a cause we truly want to get behind. We, therefore, decided to create the limited edition Boxing Roo Desert Boots to raise awareness for mental health and support those struggling with mental health as well as those who know or love someone struggling with mental health.
"Sustainability focuses on meeting the needs of the present without compromising the ability of future generations to meet their needs."
Veldskoen in Australia & New Zealand has committed to employ sustainable practices where possible to reduce its footprint on the environment and contribute to the global sustainability movement and positive environmental changes.
Our latest contribution to this commitment is the decision to ditch plastic mailer bags and use 100% home compostable mailer bags to get your Veldskoen shoes to you without contributing to landfill toxins and waste.